Highlight Photos
Introductory Remarks by
Ke-Horng Chen,
General Co-Chair,
Chair of the Department Department of Electrical and Computer Engineering, NCTU

Mau-Chung Frank Chang,
President, National Chiao Tung University (NCTU)

Cian O'Mathuna
Founder and General Co-Chair,
Assistant Professor Department of ECEE Tyndall Institute, Ireland

Technical Program Chair, Hanh-Phuc Le, from University of Colorado, led with program opening remarks and guidance.
Each Session Concluded with a Panel Discussion. A couple are shown here.
Panel Discussion, Topologies and Control, moderated by co-chair by Arnold Knott
above on right,   and from left,
Questions fielded by Christopher Schaef, Intel; Alexandre Prodic Univ. of Toronto; Hanh-Phuc Le, Univ. of Colorado; and Toke Anderson, Nordic Power Converters

Session 5 Panel Discussion
Left to right – Kenneth Shepard, Columbia University; Dan Kinzer, Navitas;  Jef Thoné, MinDCet; and Kevin Chen, HKUST
The Poster Session
Recognition Awards at our Thursday Dinner
10th Year Anniversary Award presented to the Founding Father by Trifon Liakapoulos and Arnold Alderman

Awards to Jose Cobos 2016 General Chair and Bruno Allard 2016 Program Chair

A gift for the indispensable
Ms. Hsiao-Hui Tai whose local team made it happen

KH and Cian cutting the Cake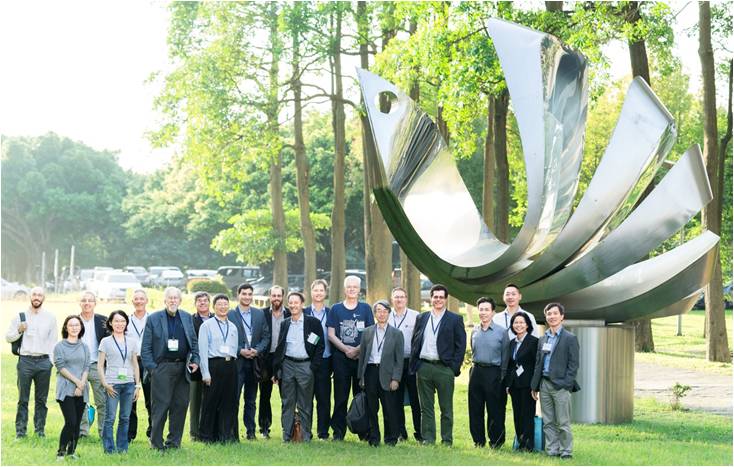 PwrSoC 2018 Organizing Team
Workshop Attendance Stats
| | |
| --- | --- |
| PSMA Presented their Phase III 3D Embedded Packaging and their 2017 Power Supply Roadmap Reports, an over $6000.00 USD value, to Professor Ke-Horng Chen receiving them on behalf of National Chiao Tung University, Workshop Host | PELS Presented the winning Poster Exhibiters left to right, Cain O'Mathuna, from Tyndall Institute presenting; Fangu Mao, Sheng-Hsiang (Joe) Pan, and Hikaru Kaishakuji with First Second and Third Place awards respectively; and Hanh-Phuc presenting. |
And lastly, a Special thanks to our Sponsors and Partner supporters.
(another first was the largest number of Partners ever!)